Are there Very Big Feelings stuck inside you that need to get out?
Could you use a magical portal to connect you back to your deepest self?
If you said yes to both questions, HOLY HELL YOU'RE IN LUCK.
We're Kristen Kalp and Katherine North, and we can help you turn your Very Big Feelings into poems.
Why? Because it's FUN. And HILARIOUS. And CATHARTIC. And HELPFUL.
During our live All the Feels class, we'll help you leave your overthinking mind and hop into flow, finding words to suit the moment.
We'll hit you with short prompts, lighthearted prompts, and deep prompts, encouraging you to play with words and then find your own ways of joining them together.
We'll also talk about why we love poetry; help you identify some concrete reasons that YOU love poetry; and then encourage you to share what you come up with as time allows.
Four things about this class are really important to us:
1 — All the Feels is joyful.

We will offer NO critique and NO harsh feedback, only reinforcement and joy and pleasure and letting the words flow. We've been to one too many English-classes-turned-war-zones to subject you to such a critical environment.
We give you full permission to write horrible, bad, awful poems and to enjoy every minute of it.   
2 — All the Feels is about writing poetry.
It is not about getting published or becoming poet laureate or advancing a career in poetry.
It's about giving you some new ways to let your feelings flow through you via poetry, so they stop making you so miserable that you're tempted to lock yourself in a closet like Moira Rose.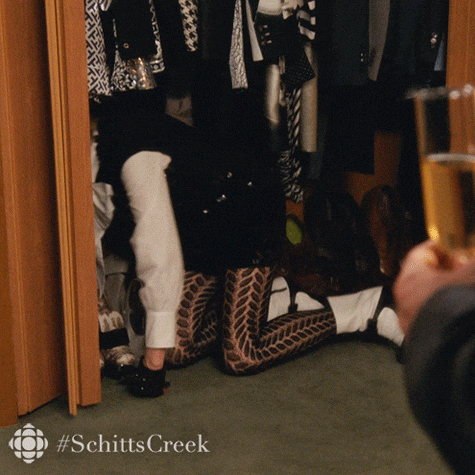 3 — We, Katherine and Kristen, are gonna be SO FUCKING PROUD OF YOU. 
We'll be thrilled to see you, thrilled to hear your poems, and thrilled to talk about poetry for THREE WHOLE HOURS!  We're going to be proud that you showed up and proud that you tried out some writing.
4 — We're gonna have a good time.
It will feel like this!
And also this!
And definitely this.
All the Feels: Permission to write bad poetry and love every word of it happens on Wednesday, July 14th, from 1-4pm ET.
This is a LIVE class with no recording because we want the energy of your presence.  (Bonus: you won't buy a class recording and then fail to use it!)
You'll receive access to the Zoom link and password via email after checkout, and we'll remind you of class on the day before and two hours before class via email.
BUT BUT BUT…
But I'm not a poet!  Perfect. Neither is Katherine, by her own description! She says she's 'a writer who makes poems sometimes.'
But I didn't major in English!  This class isn't about academia — it's about using poetry as a medium to help you move Very Big Feelings through your spirit.
But I don't actually 'understand' poetry!  We don't either, in the traditional academic sense, even though we both have English degrees! But sometimes it heals us.
But I don't want to write, only observe!  Sounds good to us! You do you.
But I'm scared to show up on video!  Cool — turn your camera off and come! We would rather you come to class without video than miss this chance forever.
If any part of you is tingly or excited or screaming internally like a tiny child on a roller coaster, please join us for All the Feels.
Poet outfits optional. 😉