The very first LIVE podcast episode of That's What She Said is here!  This is something I've been dreaming about doing, and it was SOFRIGGINFUN to see faces and talk to peeps while recording!
In this episode of That's What She Said, we talk about…
+ how to find meaning when everything feels meaningless
+ how to re-enter society as pandemic comes to some sort of end
+ why much of the modern marketing scene feels like Very Pretty Garbage
+ and how to say true to your self and your instincts in the face of what seems like the whole world shouting, "YOU'RE DOING IT WRONG!"
[technical note] This was recorded LIVE and the first 2 minutes are a bit static-y. The issue is resolved by minute 3.
Like what you hear?  Shoot me an email and tell me what you'd like to discuss on the next live episode, okay?
If you'd like to come to a live recording of That's What She Said, hop on my mailing list and you'll be the first to know when the next one happens!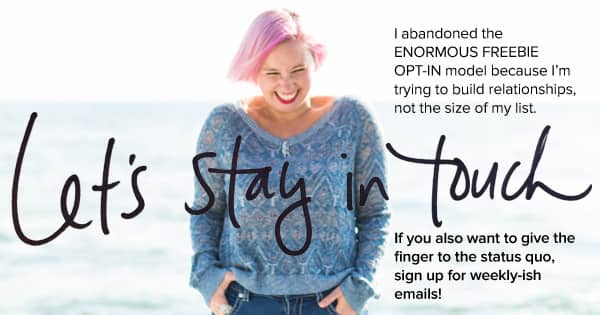 P.S. If you'd like to receive snail mail from me, hop on my SNAIL mailing list! <– For real: SNAIL MAIL.